Book One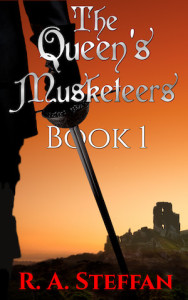 Free at:
One for all. All for one.
The year is 1631, and the Black Death has returned to Europe. France lies in ruins. The King and Queen are in hiding, and a Spanish pretender sits upon the throne.
Charles d'Artagnan's family is dead. His land, seized by armed peasants. He's out for revenge, but at this point he'll settle for an honorable death. Instead, he finds adventure, intrigue, romance, danger, and a legendary brotherhood for the ages.
Gritty and raw with an undercurrent of hope, The Queen's Musketeers: Book 1 is a very human reimagining of Alexandre Dumas' classic tale, set in a world driven to the brink of madness by plague and political upheaval.
Author's note: This book contains graphic depictions of sex and violence, and includes descriptions of self-injury with religious connotations. It is intended for an adult readership.